Managing your workforce just got Easier! Evolution Advanced HR is a full-featured HRIS solution that offers a unique combination of employee communication and traditional workforce management enabling managers and employees to access and update their information with ease. With integrated applicant tracking, new hire onboarding, benefits administration and online benefit enrollment, Evolution Advanced HR combined with Evolution Payroll is your "one-stop shop" for all of your human capital management needs.
Responsive design enables easy access using a variety of devices including mobile phones and tablets.
Product Features
Applicant Tracking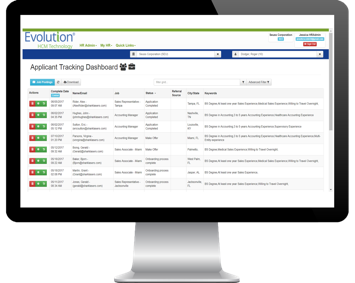 Viewing how an applicant is moving through your recruitment process is easy in Advanced HR. From defining the application process, creating custom job application questions and custom email templates to monitoring and tracking the applicant's progress. You can easily track each applicant's progress, as well as, you can even search the applicant database for keywords or skills.
New Hire Onboarding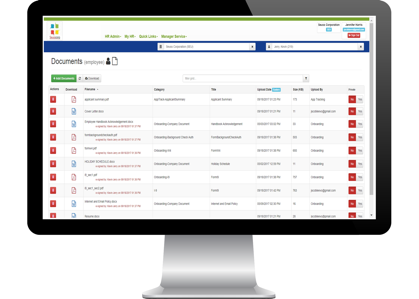 Create unlimited onboarding task lists for new hires which can be monitored on the administrative onboarding dashboard. Self-service onboarding for a new hire includes e-signatures for the electronic W-4 and I-9 Forms, consent documents, and direct deposit elections.
Onboarding
Automate the new hire onboarding process with Evolution Advanced HR. Send automated notices to new hires and have them complete all of their information including electronically signed consent, I-9 and W-4 forms, etc. online.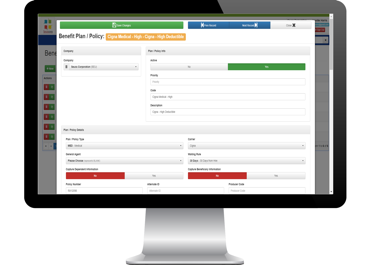 Benefits Administration
Evolution Advanced HR provides a comprehensive set of tools to manage and control multiple plan options, complex eligibility rules, and other unique plan features. A step-by-step enrollment wizard for employees simplifies the enrollment experience.
Employee and Manager Self-Service Dashboard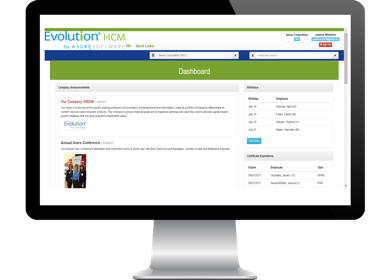 Everything is at the employee's fingertips – from viewing company announcements, accessing company documents and important links to related websites, along with accessing their personal paystubs, tax documents, and HR documents. Employees can view reminders of certifications and license expirations, their PTO balance, benefits enrollment, and even report a life event – all in one spot.
HR Administration
Single sign-on allows access to multiple companies where you can perform a cross multi-company employee search, post company news and announcements, important website links. From here, an administrator can also track employee information such as position and organizational changes with reasons and effective dates, performance reviews, statuses, scores, notes, employee documents, certifications/licenses documentation and more.
Benefits
It is easy to create and maintain benefit plan setups as well as employee benefit elections. Defining Eligibility groups and waiting periods, in addition to viewing / approving open enrollment benefit elections, makes benefits administration a breeze.
Benefits enrollment (medical, dental, and vision) right from the employee dashboard makes benefit elections simple for the employee and decreases the amount of time HR has to spend entering employee data.
Performance Tracking
Create and define unlimited performance reviews by employee (annual, 90-day, etc) and track the performance review scheduled dates and completion status. Reminders are visible in the ESS Dashboard and the employee results are recorded along with any supporting documentation to review.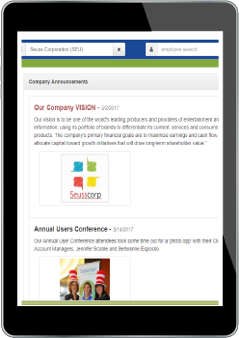 Communications
Email notifications, reminders, and alerts keep administrators, managers, and employees updated on activities in the system and items pending approval.
Highlights:
Assign and Manage Training Classes
Extensive Reporting Capabilities
Track Certifications and Licenses
Certification and Licensees Tracking
Audit Capabilities
Responsive Design
Intuitive Design and Dashboards

Call Evolution today at 802-655-8347 to learn more about Evolution HCM, and how we can help you grow your business.