In today's workplace, quality decision making is more important than ever for a company's long-term profitability. These decisions are often based on collected data. Business leaders are at a disadvantage in the decision-making process because important data may be maintained by different people in different parts of the organization rather than one central location. Centralized data helps leaders make decisions based on all relevant data. Evolution Analytics takes raw data from payroll, HR, and benefits components of the business and offers valuable insights, allowing your clients to make and track logical decisions.
Evolution Analytics is much more than a reporting capability; it is a critical business intelligence and decision-making tool. It includes a fully integrated reporting feature, offering actionable insights for the leadership team; Key Value Indicators (KVI) that focus on earnings analysis, employee turnover, employee count, ACA data and more. The Evolution Analytics dashboards are interactive, easy-to-use, easy-to-understand, and provide a solid foundation to significantly improve the decision-making process.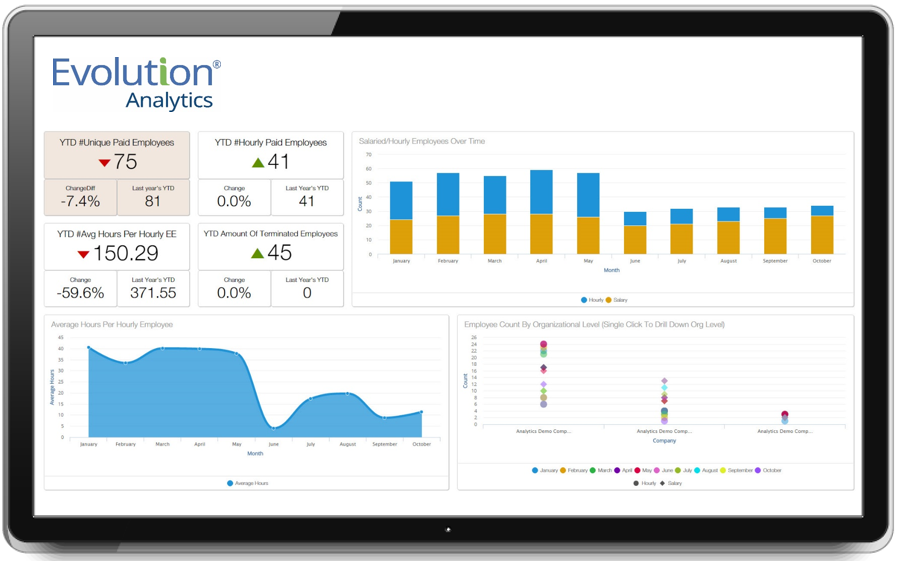 Product Features
Drill-Down Organizational Levels
Investigate multiple data dimensions and compare it between the different organizational levels. Doing so allows you to understand the source of an issue, strategize down to the "Teams" level, and balance the organizational structure.
Investigate Trends Over Time
Easily identify historical trends throughout Finance and HR in a client's organization, enabling them to not only understand the change over time but to measure the results of their business decisions.
Automatic Updates
The analytic engines are run daily to capture any updates in data made within the last 24 hours. This process ensures that any action is tracked and added to the dashboards, and is available the next business day. It also saves time managing, tracking, editing, and processing all new information in your business.
One Screen, One-Click Application
Using Evolution Analytics is as simple as clicking a mouse. The interactive dashboards and clean, simple design make it so intuitive to use, that managers can get-up-to-speed and take advantage of the benefits after a short training period.
One-Click Export Functionality
Evolution Analytics exports data into PDF or Excel formatted reports with a single click. Reports can be exported to boardroom-ready dashboards as an image to place in a presentation, or the data can be exported into an Excel spreadsheet.
Call Evolution today at 802-655-8347 to learn more about Evolution HCM, and how we can help you grow your business.