When it comes to managing employees, nothing is more important than making sure their paychecks are accurate and delivered on time. With Evolution Payroll, your clients can rest easy knowing their payroll is being processed on the industry's leading payroll and tax engine. Evolution Payroll is a SaaS-based payroll and tax management system that provides features, flexibility, and best practices to handle nearly every type of payroll, regardless of complexity or uniqueness.
Product Features
Payroll & Tax Management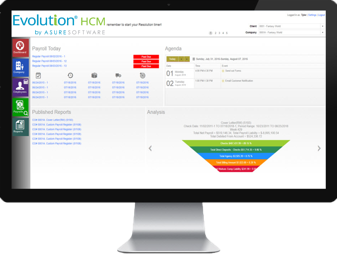 Whether it's a simple payroll for a small company or a complex payroll for a large company with multiple locations, Evolution Payroll can handle nearly every type of payroll. Evolution can support payroll entries from employers anywhere with Internet access via Evolution's proprietary SaaS-based system. It is also easy to accommodate payroll and reconciliation for any company structure with Evolution's Client, Company, and Organization level setup.
Beyond paying employees, keeping up with the ever-changing federal, state, and local payroll taxes can be a complex and time-consuming task, but with Evolution Payroll, you and your clients can rest assured their business will remain in compliance. You can rely on Evolution Payroll's tax management engine and our tax professionals' research to maintain federal, state, and local tax rates, tax brackets, and statutory limits, so you can concentrate on growing your business. No need to license a separate tax management engine with Evolution's fully embedded tax management software.
Not only do you need to make sure your clients' payrolls are accurate, you also need to make sure their sensitive personal information is protected and secure. Evolution has a completely auditable database with history tracking and timestamp on each field, and a multitude of audit reports that can be run for you and your clients. Security rights can be customized down to the function level, so your clients and internal users only have access to what you want them to.
Beyond the industry leading payroll and tax engine, Evolution boasts some other great backend tools to help you run your payroll business more efficiently and profitably. A built-in scheduler allows you to automate payrolls, report generation, and other daily tasks, increasing productivity and allowing things to be completed during off business hours. These include our library of Best Practice reports, which can be scheduled to run on a daily basis to help further ensure you are running an efficient and compliant business, and catch potential issues before quarter and year ends. Evolution's import tool evoExchange also allows for easy mapping and importing of data from third party software, aiding in both software conversions and new company onboarding..
Employee Portal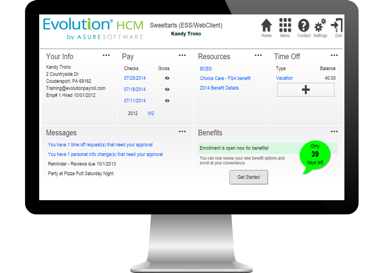 Evolution's Employee Portal is available for your clients that choose Evolution Payroll only, without Advanced HR. It allows employees to update personal information, view time off accruals, and send requests for time off from their workstations or mobile devices. Notifications are sent to managers alerting them of any new requests or changes.
Employees can also access pay data, view and print paystubs, and W-2s; a real time-saver at tax time! When your client is looking to do more with less to remain competitive, their employees will appreciate the efficiency of Evolution's Employee Portal. Managers can review and approve employee data changes and time off requests online and can post company-wide announcements and important information for employees to see when they log in.
ACA Reporting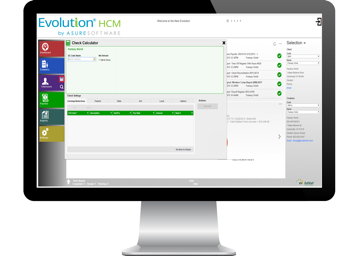 Evolution HCM has complete ACA functionality to help you and your clients assess and report on employees' eligibility through its full suite of ACA tools. Our ACA reports make it easy to gauge the impact ACA will have on a business.
In addition to Forms 1094 and 1095 B and C, Evolution HCM offers several reports to help ensure that your clients' business is up-to-date with ACA requirements. These reports include:
ACA Full Time Eligibility (FTE) Report
ACA Eligibility Report, Rule of Parity and Inactive Employee Report
ACA 1095 Edit Report
ACA 1095 Preview Report
ACA Affordability Report
ACA Status Audit Report.
Call Evolution today at 802-655-8347 to learn more about Evolution HCM, and how we can help you grow your business.